WELCOME!
Unguided & Guided
Horseback Riding
OUR RIDES ARE PERSONALIZED.
We match horse and rider to riding skills!
We can accommodate up to a group of 8 riders. Your ride is only with your group, not strangers. Our unique unguided riding is an option after riding the first hour with the wrangler and depends on your skill at controlling the horse. Regardless of skill, you always ride where you want......no nose to tail on a trail.
RATES (per rider, tax included)
All rides are guided for the first hour at $75. Rates are lower after the first hour . (see Discount Rates below)
Riding time does not start until riders are comfortable with their horse and leave the round pen.
Lower rates after the first hour
GUIDED
Hour 2......$50 Hour 3......$35
UNGUIDED (for very experienced riders, must pass our test)
Hour 2......$35 Hour 3......$25
Frequent Riders Build Generous Rate Reductions
Ask about our Frequent Rider Program when you call us or after your ride. Annual cost to ride horses with us is far and away less money than owning your own horse. Riding on warm winter days is great!
RESERVATIONS
Desk 605-517-0860
or Cell 605-389-4130
if busy please email: reserve@hollingsworthhorses.com
OPEN ALL YEAR!
We require reservations over the phone due to a customized riding experience tailored for you and your party. We will ask ages (not under 8 years old), weights (240 lb limit), guided or unguided rides (95% of our customers choose guided riding), date and time of your ride and length of your ride. We accept personal check or cash at the time of riding, sorry no credit cards. We do our best to accommodate any changes that might occur in your situation such as rain outs, number of scheduled riders, dates and times, ride lengths, etc. Your enjoyment with us is our top priority!
LYNN HOLLINGSWORTH
Lynn was born and raised on ranching and is retired from cattle operations but still enjoys horses. He is the secondary guide and says "My hope is to have people feel the Black Hills like I do by riding a horse with no agenda but to explore and wonder at it all."
CHRISTIE HOLLINGSWORTH
Christie was a city girl from California until she married Lynn in 2006 at 50 years old. He says "She took to ranching like a duck to water." She now takes reservations and schedules horseback rides.
KRISTIN WAAGE
Kristin assigns horses to riders according to skill level and is a very "people friendly" person. Her horse skills are top notch. She is the primary guide and is Christie's daughter.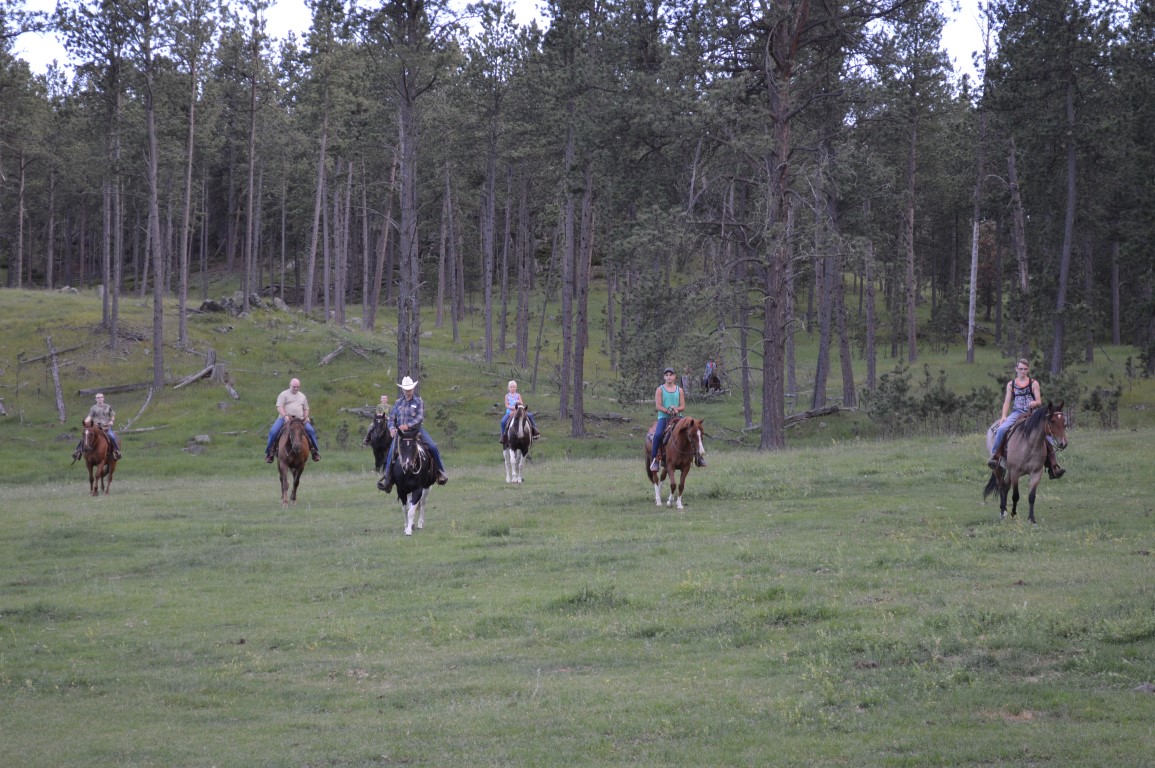 Reservations: Desk 605-517-0860
Christie's Cell: 605-389-4130
Wrangler's Cell: 805-423-4051
Website: hollingsworthhorses.com
Email: reserve@hollingsworthhorses.com